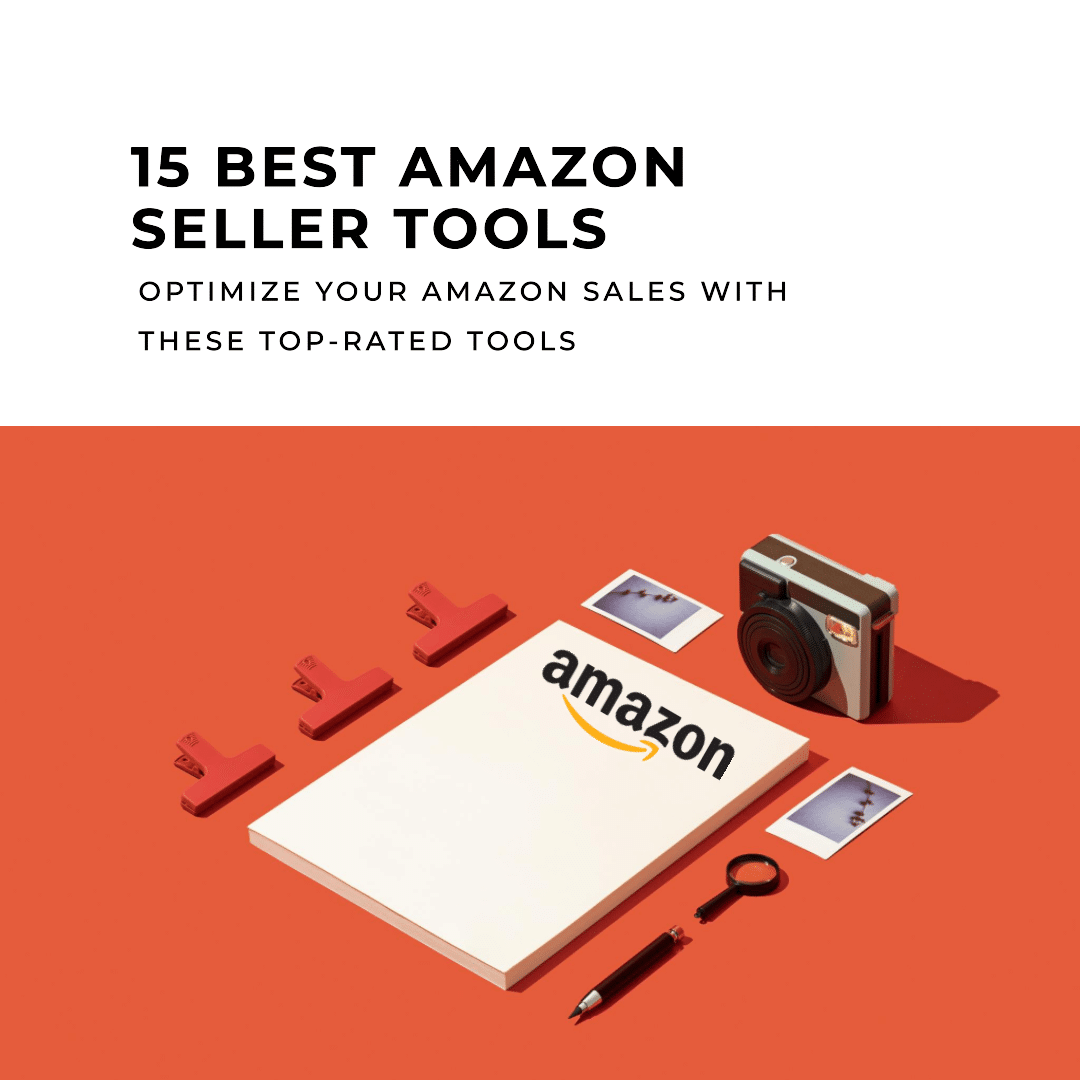 Amazon is a highly competitive marketplace where efficient strategies are required to succeed. Every seller aims to stand out and maximize their sales, how can you get an edge? In order to compete and scale effectively, successful sellers deploy certain Amazon seller tools which can supercharge their efficiency and improve the odds of success. There are many choices for Amazon seller tools, and some are better than others. This is a compilation of the top 15 best amazon seller tools.
Table of Contents
15 Amazon Tools to Dominate The Marketplace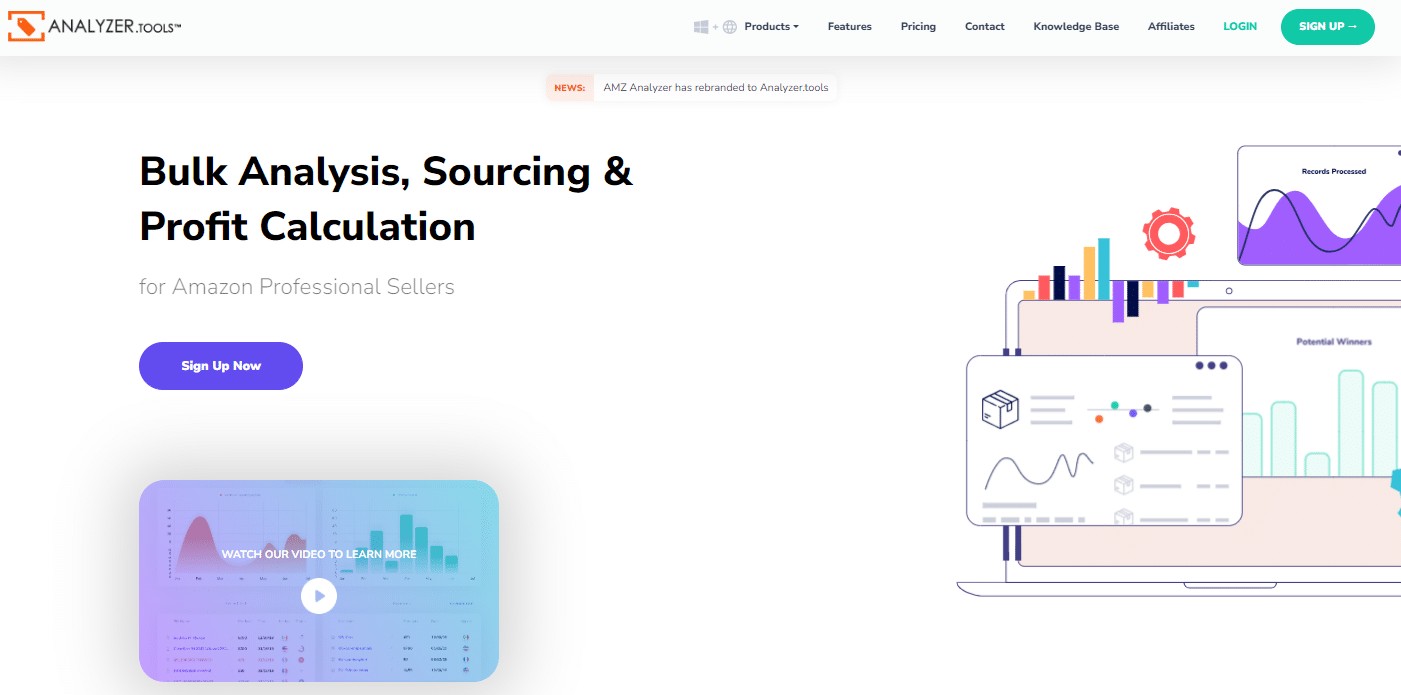 Analyzer.Tools is a state-of-the-art solution designed to enable bulk wholesale analysis and profit calculation for Amazon sellers. It delivers game changing efficiency for bulk sourcing, analytics and insights enabling sellers to make faster and more informed sourcing decisions which can dramatically improve sales. The app includes a suite of tools including a bulk wholesale spreadsheet scanner, competing seller storefront stalker, browser search for reverse sourcing and more.
Ultra-Fast Processing and Insights
Opening a wholesale account and receiving the wholesale supplier catalogue can be exciting but daunting when open a list comprised of 50,000 products, yikes! This can take hundreds of hours and weeks to effectively review while the Amazon marketplace is changing by the minute. Analyzer.Tools solves this problem with lighting fast processing speeds of up to 1,000,000 products/hr. That means a 50,000 product list can be processed and analyzed in less than 5 minutes allowing you to quickly source and move on to the next task. That's what we consider game changing efficiency!
The app provides up to 75 essential data insights necessary to make smart sourcing decisions. The data is provided in a grid format similar to Excel which allows for easy filtering to narrow down potential winners quickly.
Amazon is a dynamic marketplace which is changing by the minute and your data needs to account for historical trends as a result. Analyzer.Tools provides historical trends such as historical sales and pricing which enables good decisions and minimizing costly mistakes. 
Is Amazon Your Competition?
Know your competition, especially when it's Amazon itself which doesn't always play by the rules. Analyzer.Tools Web app Pro offers a crystal-clear view into Amazon's stake in a listing and insights into user reviews. This critical data helps sellers avoid costly mistakes and makes this tool stand out among the best Amazon seller tools.
The integrated brand IP alert is helpful in sidestepping potential pitfalls associated with selling a brand's products. It ensures you are aware of brands with known restrictions and those which may trigger damaging IP claims.
One-Click Analytics Simplicity
Whether you desire a bird's-eye view or a narrow drill-down to specific filters, a single click is all it takes. The intuitive and fully customizable user interface makes it convenient for beginners and experts to narrow results exactly how you want to see them in one convenient click using custom grid views and filters.
Benefits:
Boost Sales- With fast actionable insights, improve your sourcing efficiency and drive more sales.
Save Time- Fast and effective bulk processing automates time consuming manual tasks which means you spend less time on the mundane and more on strategy and growth.
Understand Your Market- Know what your competitors are doing and spot emerging trends before they become mainstream.
Cost-effective- Analyzer Tools offers the lowest pricing available in this space with day passes starting at $15 and monthly plans starting from $39/mo. Yearly plans are the best value with a 20% discount on the year.
Why Choose Analyzer Tools?
Selling on Amazon successfully is about smart and efficient sourcing strategies, understanding the market and executing consistently. Analyzer Tools equips you with the best amazon seller tools to help you be successful. It's the leading name in the Amazon wholesale seller tools community as a result.
Keepa is a treasure trove of valuable Amazon data and is a must for any serious Amazon seller. Keepa's historical data (also available in Analyzer.Tools) is critical for analyzing sales and pricing trends. This platform can be confusing for new sellers with information overload but there are many resources available online that can help with the learning curve.
Imagine catapulting your product to the Amazon limelight. Viral Launch is that powerful engine propelling products with research-backed data, ensuring they hit the mark. From market intelligence to listing optimization, it's a holistic solution for those envisioning exponential growth. Become more than just a seller; become an Amazon strategist.
SellerAmp is a popular on-page Chrome plugin and mobile app that allows you to see vital decision making data right on the Amazon page. It has an intuitive interface and is packed with data that allows you to understand the profitability of a product from anywhere. This app is a great solution when analyzing one product at a time and pairs well with a bulk analysis app such as Analyzer.Tools.
Inventory Lab is a leading inventory management tool which allows you to save time and money when processing and tracking your inventory. It can incorporate a barcode scanner for a faster listing and labeling experience. It also helps track your inventory's performance over time and helps manage restocking. If you get tired of tracking inventory in a spreadsheet, check out Inventory Lab.
The OG trailblazer of Amazon product research. Jungle Scout merges powerful data analytics with user-friendly interfaces, offering insights spanning from product viability to supplier validation. Whether you're a newbie or a seasoned seller, this tool is your compass, guiding you through the dense Amazon jungle. Chart a course to success, led by actionable insights.
SellerApp is known as a powerhouse of analytics and intelligence. Be it optimizing your product listings, understanding PPC campaigns, or monitoring competition, SellerApp offers clarity in the vast sea of e-commerce. It's a blend of data and strategy, empowering sellers to navigate and dominate the marketplace. Make informed decisions; make them with SellerApp.
While playing multiple roles for Amazon sellers, Helium 10 is an all-encompassing suite serving everything from keyword research to profitability analysis. Seamlessly explore product ideas, safeguard your brand, and skyrocket sales. It's not just about data but understanding the story behind the numbers. With Helium 10, you're not just selling but mastering the art of e-commerce.
Seller Snap is a fully automated and AI enabled Amazon repricer which ensures you're always a step ahead with real-time pricing strategies that outpace competitors. Without manual intervention, your listings stay competitive, maximizing profits and ensuring visibility. Dive into a world where pricing isn't just a number; it's a strategic advantage.
If you are looking for an extensive set of tools under one umbrella, Zonguru must be your primary option. From robust business dashboards to niche finders, it offers insights that transform decision-making. Peer into your business's heart, understand customer sentiments and refine your strategy. Zonguru: Where data meets intuition.
The voice of your customers has never been clearer. FeedbackWhiz offers the tools to solicit reviews and understand, manage, and respond to them. Enhance customer relations, address concerns promptly, and build a brand reputation that resonates. In the world of Amazon, feedback is gold; with FeedbackWhiz, mine it efficiently.
Perpetua (formerly Sellics) provides a comprehensive dashboard that streamlines every facet of your selling journey. From supercharging your SEO to monitoring your profits, Perpetua brings it all under one roof. Dive deep into metrics, optimize campaigns, and foresee market trends. In the intricate world of Amazon, Perpetua is your navigator, ensuring every move is strategic.
Whether you're scouting for lucrative niches, gauging competition, or predicting sales, this tool harnesses data to guide your decisions. With its intuitive interface and robust analytics, product research is no longer a gamble but a calculated endeavor. Venture confidently with AMZScout as your trusted guide.
Redefine profitability with Teikametrics because this platform has been engineered for success in Amazon's advertising landscape. Through its AI-driven insights, it optimizes ad spend, elevates product visibility, and maximizes returns. Beyond mere analytics, Teikametrics crafts actionable strategies, ensuring every dollar spent is an investment in growth. Illuminate your advertising potential; let Teikametrics be your beacon.
Not purely an Amazon app but Pixelfy is the ultimate tool for crafting Amazon-compliant URLs. Enhance traffic, track conversions, and retarget with precision. Whether you're launching a product or amplifying brand visibility, Pixelfy's custom links optimize every click. In the realm of Amazon marketing, Pixelfy is the architect behind success stories. 
FAQs 
What is Amazon Seller Tools?
Amazon seller tools is generally referring to 3rd party applications developed for Amazon sellers. These apps are authorized and reviewed by Amazon and referred to officially as Seller Central Software Partners. Per Amazon- The Seller Central Partner Network features services and applications from Amazon and approved third-party software providers to help you start and scale your ecommerce business.
What Is the best software for Amazon sellers?
There are thousands of software solutions for Amazon sellers with many good and bad options. Which are the "best amazon seller tools" is subjective and depends on a seller's specific needs. Analyzer.Tools stands out in the wholesale space according to our, admittedly biased, assessment. It combines potent analytics with an intuitive interface and unparalleled market insights. If you are not into wholesale, there are other great software options to consider in our top 15.
What tools do I need for Amazon FBA?
We recommend equipping your business with tools for sourcing, managing inventory, price calibration and granular sales breakdowns. Don't go overboard and only use the tools you need to avoid subscription fees taking a bite out of your bottom line.
What are benefits of using the best Amazon seller tools?
Amazon is a massive marketplace which requires a scalable and data driven approach to be successful. Using the best Amazon seller tools can help leverage data and automation to make better decisions and scale your Amazon business.
Do you need software to sell on Amazon?
No, all you need is an Amazon seller account. However, the right software tools can make your journey easier and improve your odds of success.
How do I analyze Amazon data?
Deciphering Amazon's data mosaic can be daunting but can be simplified with Amazon software such as Analyzer.Tools which consolidates valuable data in a digestible and user friendly format. This type of app distills volumes of data into insights to improve your decision making.
---
Hope this helps!  Please be sure to visit, subscribe and share our Facebook, YouTube & Twitter page to be the first to get the latest news and updates on program developments and new features!