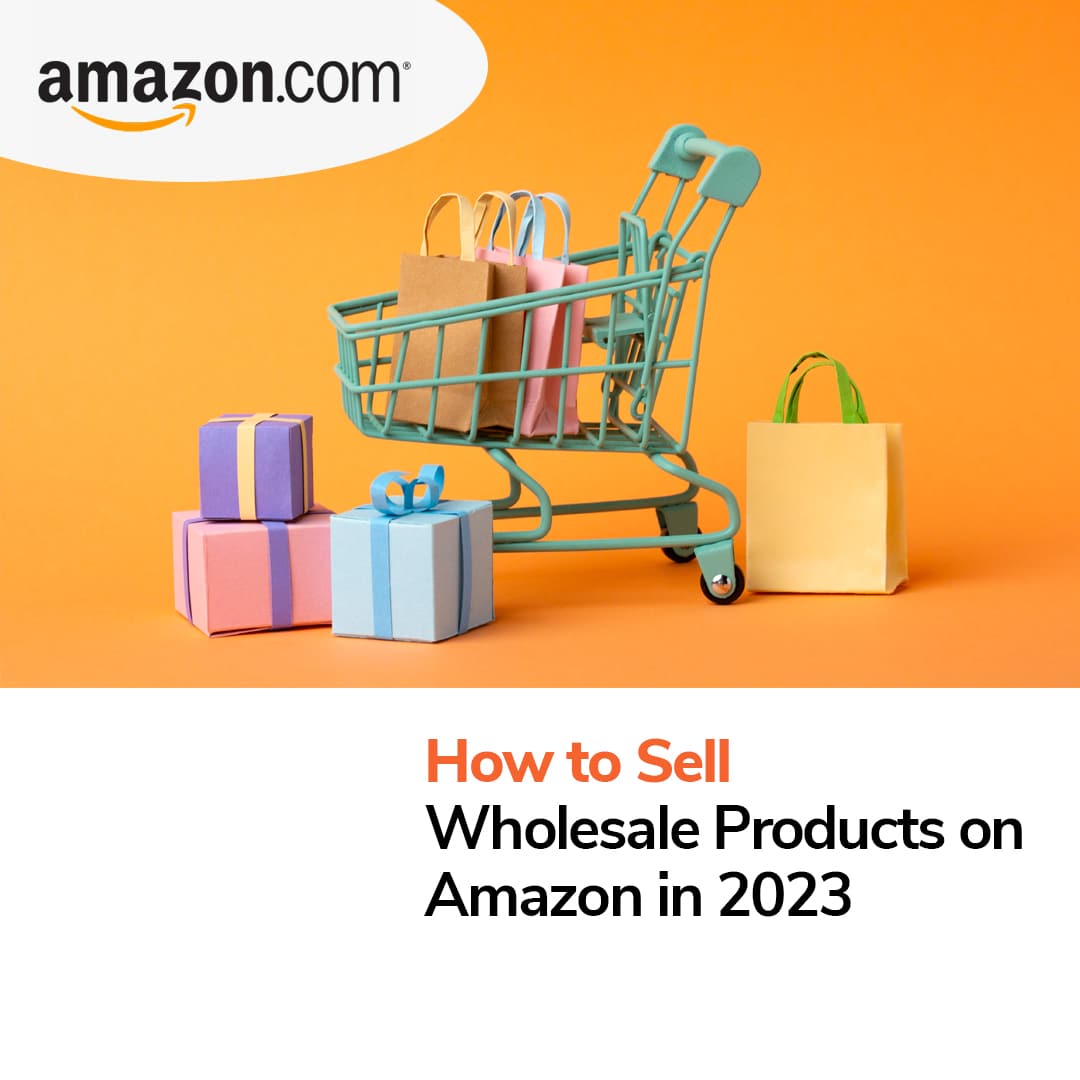 Use Amazon FBA Wholesale to Sell Your Products
Are you interested in starting or growing an ecommerce business? Maybe you're looking for a side-hustle to compliment your day job. Finding a reliable source of online income is not easy but sourcing wholesale products to sell on Amazon is worth the effort. Selling wholesale on Amazon offers tremendous opportunity as it can be a steady and scalable source of income if you're dedicated to the task.
We'll cover the various selling strategies that can be deployed on Amazon as well as the company's Fulfillment by Amazon (FBA) service and how you can use it to sell in-demand wholesale products on the world's largest e-commerce platform.
Table of Contents
What is Amazon Wholesale FBA
Amazon Wholesale is when branded products are purchased in bulk from a distributor, supplier, or manufacturer and resold as individual units to customers with a price mark-up. Products can range from cosmetics to jewelry to electronics. Many choose to buy and sell in bulk using the wholesale model because it's scalable and allows you to sell established brands without the need to create new brands or products which can be time consuming, risky and expensive.
What separates an Amazon wholesale FBA seller from a typical wholesaler is orders are fulfilled by Amazon employees in an Amazon warehouse. Otherwise, wholesalers typically pay a warehouse to store their products plus additional fees for a crew to sort, pick, pack, and ship orders.
Startup and maintenance costs can be significant for traditional wholesalers, which deters many from seriously exploring the business model. Amazon wholesale FBA shifts all of the heavy lifting from you to Amazon, thus reducing your start-up and operating costs significantly.
Wholesale vs. Other Business Models
Before you can truly use the wholesale model effectively, it's a good idea to understand the other common selling strategies available on Amazon. Each strategy has its pros and cons and understanding them up front will ensure that you pick the right approach for you and minimize costly surprises. We will start by covering the other strategies first followed by an in-depth wholesale review. Spoiler- we highly recommend the wholesale model, click here if you would like to skip to that section.
Wholesale vs. Retail Arbitrage
The Retail Arbitrage business model involves buying products from a retail store and selling them at a higher price online. Basically, you are exploiting market inefficiencies and flipping the product into a profit.
For example, you can search for clearance or sale prices at a retail business or visit discount retailers such as Tuesday Morning. Once you find discounted products on the shelf, sellers scan them using the free Amazon's Seller App (or paid 3rd party app) which calculates potential profit after cost of goods sold, shipping to FBA warehouse and FBA fees. A good rule of thumb is, if the product can sell on Amazon for ~3x the retail purchase price, it's likely to be profitable after fees.
Pros:
Low risk and low barrier to entry. Considered as an ideal entry-level method for new sellers to learn how to sell on Amazon
Startup costs are minimal, no minimum purchase quantities
Allows you to test drive Amazon's platform and learn the systems without a big commitment
Cons:
Requires you to do the footwork to constantly locate and restock inventory. The process is very time-consuming
Because of the time and continuous effort placed into securing inventory, retail arbitrage is not considered very scalable
Lot's of wear and tear on your vehicle from driving around to different stores which is often a hidden cost of this strategy that needs to be accounted for
Authenticity claims by Amazon can be problematic since an authorized supplier invoice is required to prove authenticity. Retail receipts may not satisfy such claims putting your seller account at risk
Wholesale vs. Online Arbitrage
Much like retail arbitrage, its online partner is very similar. Instead of visiting the local store, you search a retailer's website for products that can be flipped to Amazon for a profit. Sellers make heavy use of coupons that can be applied on the retailer's website to purchase products at deeper discounts.
Pros:
Similar Pros as retail arbitrage without the driving and physical shopping requirements
Thousands of sourcing websites available for sellers to use. They range from big-name stores to smaller niche boutiques
You can find items not available locally by shopping in stores outside of your area
Low risk work-from-home business business model for beginner Amazon sellers
Cons:
It takes time to learn this strategy and it's difficult to scale effectively since re-orders are not as repeatable as they would be for wholesale or private label strategies. This results in a constant sourcing slog to maintain sales on Amazon which can be difficult to sustain and grow
Most sellers are using the same tools to scan the same online stores for deals. If you find a good deal, chances are other sellers will quickly find it too and tank the listing which can cause you serious losses
Lots of online "gurus" hyping this business model for personal gain and exaggerating its potential
Wholesale vs. Private Label
Purchasing non-branded generic products and branding them with your own unique name, logo and packaging (with manufacturer's permission) for resale is referred to as private labeling. Many private label products are purchased overseas in low production cost countries like China and resold with your logo and packaging online.
With a private label, you own the brand which creates unique advantages but also adds its own significant risks. Private label is generally considered the highest risk and also the highest reward potential. For this reason, this business model is not recommended for new sellers due to the high risk of losing significant upfront capital. However, if you are an experienced seller and can afford to place $10-15k+ USD "at-risk", this business model can lead to great and sustainable success if done correctly.
Pros:
Since you're the brand owner, you control the Amazon listing and will have no competition on that listing. Instead, your competition is with other similar product listings
Price tanking from competitors is not as much of a concern as it is with other selling methods
Creating a brand with unique products can ultimately be sold as a business with an income multiplier
If done correctly, can provide relatively stable, long term and scalable cash flow
Cons:
The business model is the highest risk when compared to all other models, not recommended for new sellers
You're responsible for marketing your listings which can be expensive and there is no guarantee of success
Significant upfront investment is required to source large minimum order quantities
Lots of nuance and potential pitfalls in the international sourcing and shipping process which can have significant risk if not done correctly
No guarantee that your overseas manufacturing supplier won't copy your brand and knock-off your listing once they see your success
Wholesale vs. Drop-shipping
The drop-shipping method is when the seller purchases items from a supplier and has the supplier fulfill the product directly to the customer. In this model, the seller doesn't store or handle inventory and all product storage, handling and fulfillment is taken care of by the supplier.
Beware, while this model sounds appealing, the cons bring significant risk and may cause your Amazon account to be suspended. Please make sure you fully understand Amazon's Drop Shipping Policy before you begin.
Pro Tip- Use Amazon FBA to "drop-ship" to other e-marketplaces or even your own website. Check out Amazon's article describing how Amazon drop shipping works.
Pros:
Sellers save time by not storing, preparing and shipping products
The overhead costs are close to zero
Extremely scalable if done correctly
Work from anywhere since drop shipping allows you to fulfill orders regardless of your operating location
Cons:
Extremely high risk to drop ship to Amazon. Most drop shippers will violate Amazon Terms of Service, make sure you fully understand Amazon's Drop Shipping Policy before you begin
No control over the storing, packing and shipping process sounds like a blessing but is often a curse. Failure and operational mistakes from your drop shipper reflect directly on your business and can lead to unexpected costs and bad reviews for your e-commerce store
Some drop shippers prey on inexperienced sellers and are actually multi-level marketing businesses
Selling Wholesale on Amazon
The wholesale method is the best of all worlds. It combines the relatively low risk of arbitrage selling models with the stable and scalable cash flow found of private label. The model is more scalable than arbitrage since you can re-order winning products and replenish the same products over and over in bulk. Further, wholesale is much less risky than private label since the up-front investment is much lower and you don't need to invest in creating, building and marketing a new brand. The products and brands already exist, all you need to do is find them, order them and sell them for profit on an existing Amazon listing!
Since the products already exist, sourcing decisions for Amazon Wholesale are much more certain since there is a selling history that can be analyzed for each potential product. Sourcing software such as Analyzer.Tools can provide critical data points quickly to ensure you're making the best wholesale sourcing decisions possible.
For example, you can look deep into the product's history and check for trends and patterns for selling history, pricing history and number of competing sellers. Are there times of the year when the product sells more or less with seasonality? Is Amazon a competing seller? Can you make a profit on the product after all fees, shipping and cost of goods sold? Now imagine assessing this information for tens of thousands of products. That is where bulk analysis, sourcing and profit calculation software like Analyzer.Tools is absolutely critical.
The general steps for establishing and maintaining a successful Amazon wholesale FBA account are simple.
Sign up for an Amazon Seller account
Find potentially profitable products to sell using a quality sourcing tool like Analyzer.Tools
Reach out to the product suppliers & open a wholesale account to order these products
Label and ship these products to Amazon FBA warehouse
Let Amazon sell, fulfill and ship your products and you collect the profits!
There are several benefits to finding wholesale products to sell on Amazon. Below are the primary reasons you should consider Amazon FBA wholesale services.
Expanded reach: As the most visited e-commerce site, according to Statista, millions of shoppers are active daily on the platform. That means you have the opportunity to reach potential customers in different areas of the country and world. You can take advantage of the reliable and consistent reputation the brand has built globally and present your product to over one billion consumers each month.
Increased sales: Expanding your reach should ultimately result in an increase in sales. And, as far as online sales go, Amazon is leading the pack. In 2023, according to Statista, the company netted $513.9 billion in global sales. That's one big pie that you can get a slice of by selling wholesale on Amazon.
Frees up time: There are a ton of menial tasks that a brand needs to complete in order to keep its product moving. Setting up an Amazon FBA wholesale account allows you to bypass certain tasks and expenses, like pricey pay per click (PPC) campaigns to promote the brand. Instead, you can focus efforts on growing the business and focus your capital on replenishing inventory.
Saves money: Selling wholesale on Amazon means you can cut back on expenses like rent or storage fees for your inventory. There's also no large crew of workers you have to pay a salary to fulfill customer orders. Another way Amazon FBA wholesale services curb expenses is with bulk purchases, which usually can be negotiated to ensure you receive a price that permits you to maintain a consistent supply.
Wholesale and business licensing rules vary depending on your state or country, so be sure to find out what they are before setting up an Amazon wholesale FBA account. Depending on your location, a tax-exempt form may be required, so don't forget to research the rules and regulations before fully committing.
Best Wholesale Products to Sell on Amazon
The reason you're interested in Amazon FBA wholesale is to net a return on your investment (ROI). That begins with choosing products that have enough demand for you to sell and at sell prices that return an acceptable profit. There is no specific product that will guarantee success but there is a tried and true framework to finding such products which involves having the right data at your fingertips to make good buying decisions. While we are admittedly biased, we believe that the Amazon FBA wholesale model paired with the sourcing and analysis tool like Analyzer.Tools is the winning formula.
An important aspect of selling wholesale on Amazon is to find the balance between high demand and low competition products. This sounds easy in concept but how do you measure demand and competition at scale? When analyzing wholesale products to sell on Amazon, a supplier may send you a product catalog with tens or even hundreds of thousands of products. How do you review each product to find the winners? This is the type of bulk analysis that's possible with Analyzer.Tools which allows you to process up to 1,000,000 products per hour in search for those hidden winners in minutes.
Tips For Selling Wholesale on Amazon
Finding the right products for Amazon wholesale FBA is no walk in the park, but you'll find success with the following tips.
When looking for Wholesale products to sell on Amazon, make sure you're not competing with Amazon. Amazon doesn't play by its own rules and will often own the BuyBox or drive sell prices to lows that make the listing unprofitable. There are ways to compete with Amazon but this is not for the risk averse so we recommend that new or risk averse sellers skip these products entirely. To see if Amazon is a competing seller, we recommend Analyzer.Tools Web app Pro which shows the % of time Amazon has been a competing seller for the last 30, 90 or 180 days.
Price your items strategically. Many believe the best way to eliminate the competition is to offer the lowest price, but you're actually defeating the entire purpose of establishing an Amazon wholesale FBA account. Pricing should be competitive and profitable, do not set your sell price lower than the lowest FBA offer to avoid "tanking" the listing and spoiling profits for everyone.
When looking for wholesale products to sell on Amazon, try to go for something lightweight and small. Not only are these items easier to store since they don't require too much shelf space, but they're also cheaper to ship.
Don't forget that there are costs involved with listing wholesale products to sell on Amazon. Get familiar with these costs, using a profit calculation tool like Analyzer.Tools helps keep these costs front and center in your profitability analysis.
Avoid paying for and using things like Amazon supplier directories. There are tens of thousands of suppliers to be found and the good ones are not listed in a directory. Suppliers listed in a directory which is sold to many Amazon sellers are going to be saturated with competition. In general, the harder the supplier is to find, the better the profits and more sustainable the products will be. Good suppliers are a closely guarded secret and will never be openly shared with you.
Read and follow the Amazon Terms of Service! Ignorance is not a good excuse if Amazon suddenly closes your Amazon seller account for not following the rules. This happens all too frequently and is easily avoided by knowing the rules up front.
Finding Wholesale Suppliers
You'll know you've found the right wholesale supplier when they satisfy your cost, shipping, and quantity requirements. Let's dive a little deeper and explore different options when it comes to finding wholesale vendors.
Find Suppliers Using Wholesale Trade Shows
Check out the large national wholesale trade shows such as the ASD Marketweek Expo. You can visit them in person and make lots of supplier connections but the secret is, you don't even need to do that! Most trade shows will publish their list of exhibition attendees which you can use to contact after the show! Once you contact the supplier and make a connection, try to open a wholesale account and request a product catalog. You can scan the supplier catalog in Analyzer.Tools Spreadsheet Search to quickly find the profitable products that sell on Amazon.
Sourcing by Competing Seller Storefront
See what other successful Amazon sellers are selling. You can search other seller's storefronts by using Analyzer.Tools competing seller storefront search (also referred to as storefront stalker tool). Once you have the competing seller's storefront processed, sort the list by the Brand column. Now you have a good list of brands, contact the brands your competition is selling and cash in on their hard work to open a wholesale account. Imitation is the sincerest form of flattery!
Reverse Sourcing on Amazon
Browse through Amazon product categories using your browser to find categories niches that have low competition. Use the Analyzer.Tools Browser Search to process the products you found using the URL. Once processed, use the app's filters to narrow down products using columns such as Shipping Weight, Sell Price, Sales Rank, Est Sales, est. Once filtered, sort by Brand and contact the brands to open a wholesale account and source the found products.
Tip- Ignore Amazon's "Best Sellers" pages and instead dig deep into the sub categories. There is too much competition in the top best selling products and you don't need a top 100 product to make a killing on Amazon. As they say, the riches are in the niches!
Sign Up for Trade Publications in Your Industry
Discover new developments in the industry and brush up on the upcoming trends by subscribing to magazines and newsletters specifically targeting resellers who sell their products. Why? Because the advertisers that buy space are typically manufacturers looking to pick up new business.
---
Hope you enjoyed the read! Please be sure to visit, subscribe and share our Facebook, YouTube & Twitter page to be the first to get the latest news and updates on program developments and new features!